The Immortal Genesis Face & Body Lift (Initial Session) mp3 - Energy Session for Developing Senses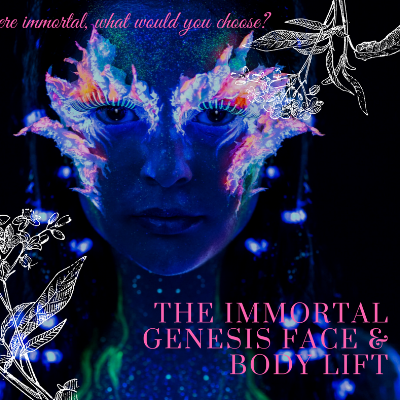 The Immortal Genesis Face & Body Lift (Initial Session) mp3 - Energy Session for Developing Senses
MAXIMIZE YOUR SENSORY ABILITY -
This energetic face & body lift is the invitation for your body to maximize its sensory ability. Your body is your vehicle, and this session will escalate your abilities for heightened awareness. It also will align and tune you and your body for appropriate communication. This face & body lift is for anyone seeking to increase and comprehend his/her own sensory gifts with greater ease.
This is a light touch energetic face & body lift that has been specifically coded by Rann for:
Increasing capacities for sight, hearing, smelling, taste, knowing, and more.

Bringing skeletal, muscular, vascular and nervous systems onboard for increased focus of various faculties.

Unlocking and restructuring of DNA as appropriate

Increased growth of hair at the scalp

Upgrading interdimensional sensory skills

Calibration for physical adaptability
Post session experiences may include:
facial muscular aching

noticeable changes in facial features

increased energy

changes in your behavior and in the behavior of others
* Repeated sessions produce more dynamic results
* Access to download will be available for download upon purchase.

* This recording is of a one hour session. It may be played repeatedly at regular or low volume. It may also be used in conjunction with other Immortal Face Lift Coded Activators for amplified energy.
For a list of all Energetic Facelifts and Activations CLICK HERE
Would you Like an Energy Bath?
"Temporal Quantum Discord" Energy Bath.12
Pure Energetic Pampering
Take some time to make some time with a Oneness Is Everything Energy Bath!
Take advantage of these big, little activations for greater:
clarity

happiness

reduction of stress

reset of focus

integration of change

removal of residual energies

personal priority.
Each Energy Bath is unique and includes an infusion of a variety of immortal energies and quantum clearings.
What is an Energy Bath?
How many showers or baths have you taken in your lifetime? What if you took a bath every day without ever cleaning the bath tub? Would you really consider yourself clean? Would you be able to enjoy yourself in the bath and feel truly refreshed afterwards?
Your body is no different than your bath tub in this example - especially if you consciously work in order to create change for the better in your reality. How many rings have been left behind in your energetic bath tub? How much grime is hanging around from all of the times you played in the mud? ...Are you ready for an energy bath yet?
Oneness Is Everything energy baths are available as live broadcasts and replay/downloads. Each energy bath activation has a runtime of approximately 15 minutes and continues running for at least an hour afterwards.
If you miss the live broadcast, no worries! :) Oneness Is Everything Energy Baths are activated in quantum space. Your energy bath is warm, ready, and waiting for you.
This particular activation focuses on Temporal Quantum Discord
Forms of timeline looping

Cosmic gateways

Fear

Control

Overcontrolling

Undercontrolling

unifiction of the infinite mind
For Future Live Energy Baths Check out the Event Calendar Here
SAVE WITH THE ONENESS IS EVERYTHING ENERGY BATH HOUSE
see more below